Crime-lite

®

ASV

Anti-stokes laser viewing enclosure for the examination of fingerprints

The Crime-lite ASV is a bench-top viewing enclosure for the stimulation of infrared activated anti-Stokes fingerprint dusting powders.
Anti-Stokes powders absorb invisible infrared radiation and re-emit the energy at visible wavelengths, a process that is the reverse of standard fluorescence.
Excellent results can be obtained with fingerprints on 'busy' multi-colored backgrounds and on backgrounds which fluoresce at similar wavelengths to standard fingerprint treatments.
Bright visualization of fingerprints under infrared illumination
Minimise the impact of background fluorescence
Safe Class 1 laser viewing enclosure
Applications
Latent fingerprints, invisible under white light, appear to glow brightly in the visible spectrum when dusted with anti-Stokes (up-convertor) powder and illuminated under an intense infrared light.
Visualisation of fingerprints using anti-Stokes powders is of particular use in situations where background fluorescence overwhelms the fluorescence produced using alternative fingerprint dyes/stains, on exhibits that cannot be 'dipped' into wet treatments such as BY-40, and on metal exhibits (this is due to the magnetic properties of anti-Stokes powders).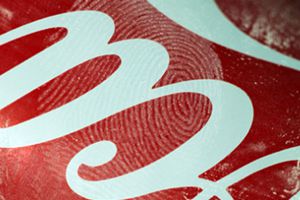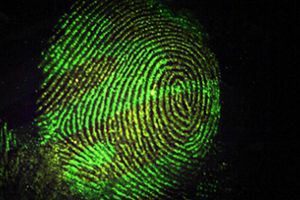 Drinks can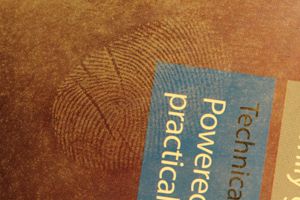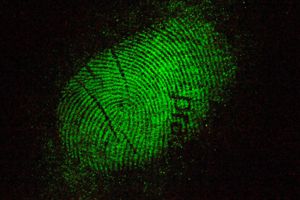 Postcard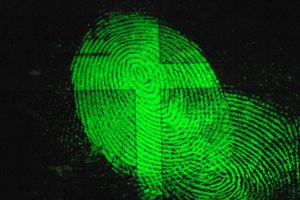 Glossy magazine
Typical exhibits that benefit from ASV development include:
Paper and card including banknotes, passports, magazines etc.
Smooth metal surfaces including drinks cans
Electronics such as mobile phones
Firearms, that require test firing following treatment