CRIME-LITE APPLICATIONS //
Use of Crime-lites for the visualisation of illicit substances
Introduction
An illicit drug may be characterised as an unregulated substance which is illegal to possess or distribute. Sometimes, this may also include prescription drugs which have been obtained illegally and are being consumed for non-medical reasons. There are many different types of illicit drugs, each of which can have a different effect on the human body. These can include stimulants (cocaine, MDMA), opioids (heroin, fentanyl), hallucinogens (Ketamine, LSD), and depressants (Barbiturates, GHB). Illicit drug residues may contain a mixture of the pure drug and a cutting agent/adulterant, which is often used to 'dilute' the pure drug down, in order to create larger quantities for illegal distribution. Common adulterants can include substances such as creatine, phenacetin, and caffeine. Criminal investigators may need to examine scenes containing illicit drugs and are sometimes required to detect and recover physical evidence of this type from the scene.
The detection of certain types of illicit substances can be difficult as sometimes only small amounts of drug residues will be found at a crime scene, and these may not always be easily visible to the naked eye. Crime-lite forensic light sources can be utilised as a non-destructive and safe method for the detection of some commonly encountered drugs or drug residues such as cocaine or heroin. Many drug residues will fluoresce when illuminated with Crime-lites, although different types of residues will fluoresce under different wavelengths of light. Therefore, it is important for examiners to utilise a range of wavelengths for the detection of drug residues during their investigation.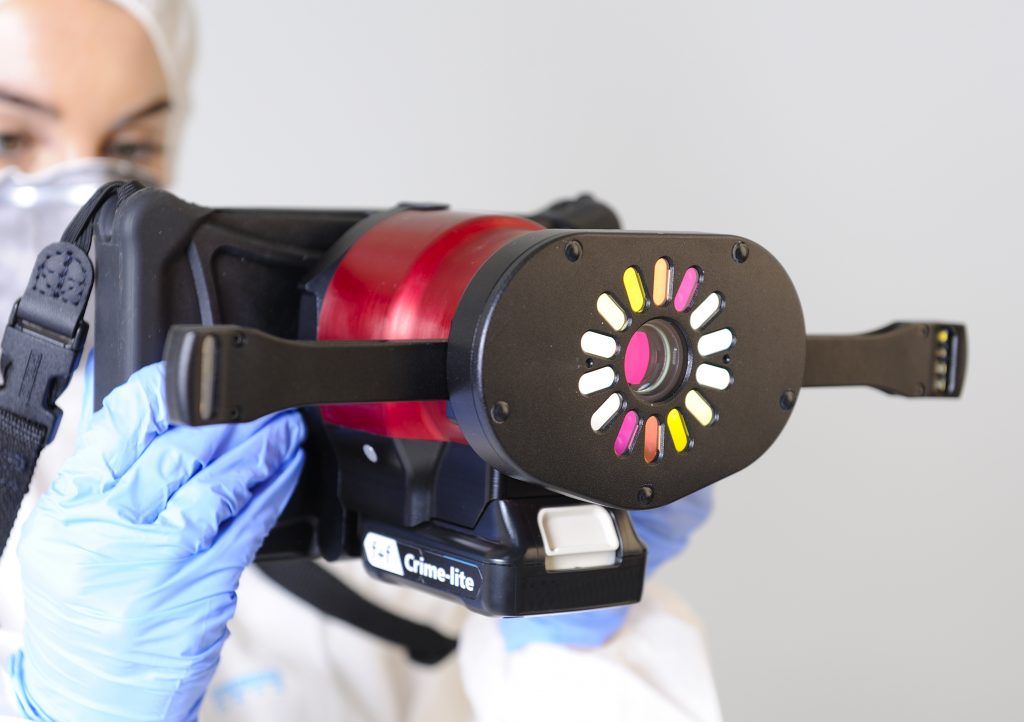 This application note contains a set of images, which feature a variety of different drugs residues/adulterants and the Crime-light wavelength/filter combination suitable for visualisation.
The Crime-lite product range is suitable for the detection and visualisation of different types of drugs residues.
Fluorescence Illumination
Fluorescence occurs when visible light of a specific wavelength is absorbed by a substrate, which then emits light of a different wavelength. This emitted fluorescence is much weaker in intensity than the light that produced it, so filters are used to block out light not absorbed, in order for fluorescent emissions to be viewed.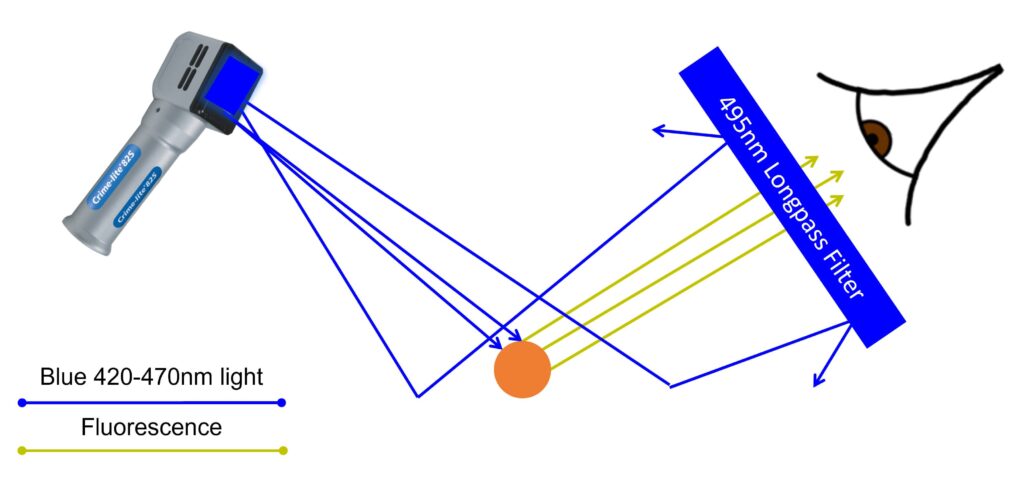 A UV light source generates light which is invisible to the naked eye but produces visible UV fluorescence. A filter is not required to view UV fluorescence although a visible pass filter is also suitable for this application.
Bandpass Filters:
Sometimes, we may need to utilise more specialist filter types to visualise difficult evidence types. A bandpass filter will block all wavelengths shorter than a certain value but also all wavelengths longer than a certain value as well, allowing only a narrow potion of the spectrum to pass through. This can help improve the visibility of evidence which may not have previously been visible with the use of a standard longpass type filter. In other cases, it may simply increase the contrast which can be achieved between the evidence and the background, especially if a fluorescent background is interfering with the fluorescent emission from the evidence.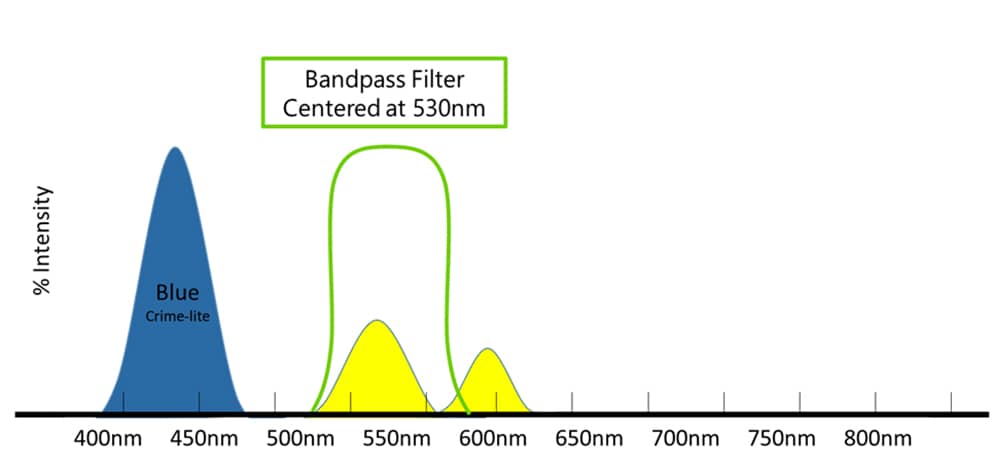 This is a representation of a bandpass filter. Bandpass filters block out all light shorter than a specific wavelength and also all light longer than a specific wavelength.
Required Hardware for Visualising Illicit Drugs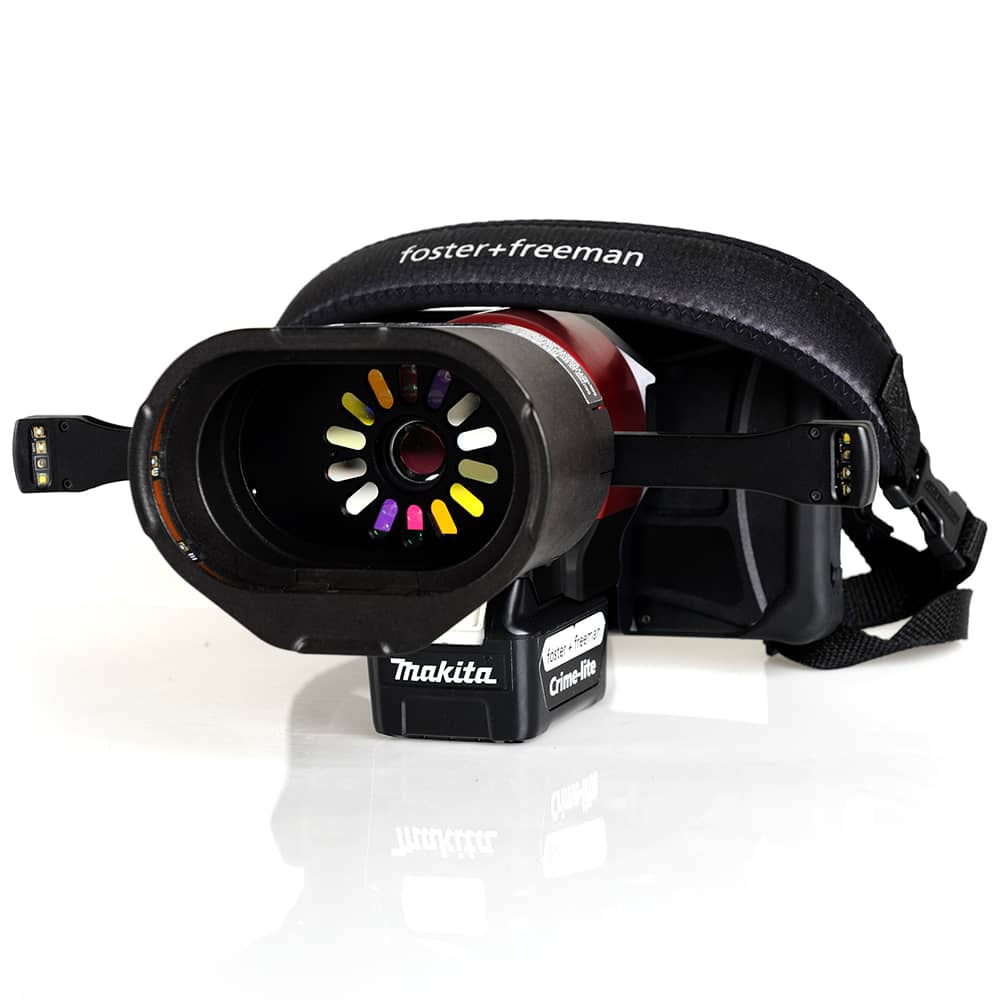 Crime-lite® AUTO
The Crime-lite AUTO is the most integrated, comprehensive, and compact forensics digital camera solution in existence. Combining the latest forensic imaging technology with high intensity multi-spectral illumination, the Crime-lite AUTO is a complete solution for the search, detection, and capture of forensic evidence.
Crime-lite® LASER
For the detection and examination of every last trace of forensic evidence; the new Crime-lite LASER provides intense, ultra-narrowband LASER illumination from a portable light source. Available in Blue (447nm) and Green (520nm) wavelengths, the Crime-lite LASER is capable of revealing evidence including latent and treated fingermarks, body fluids, and other invaluable traces of forensic evidence such as illicit drug residues.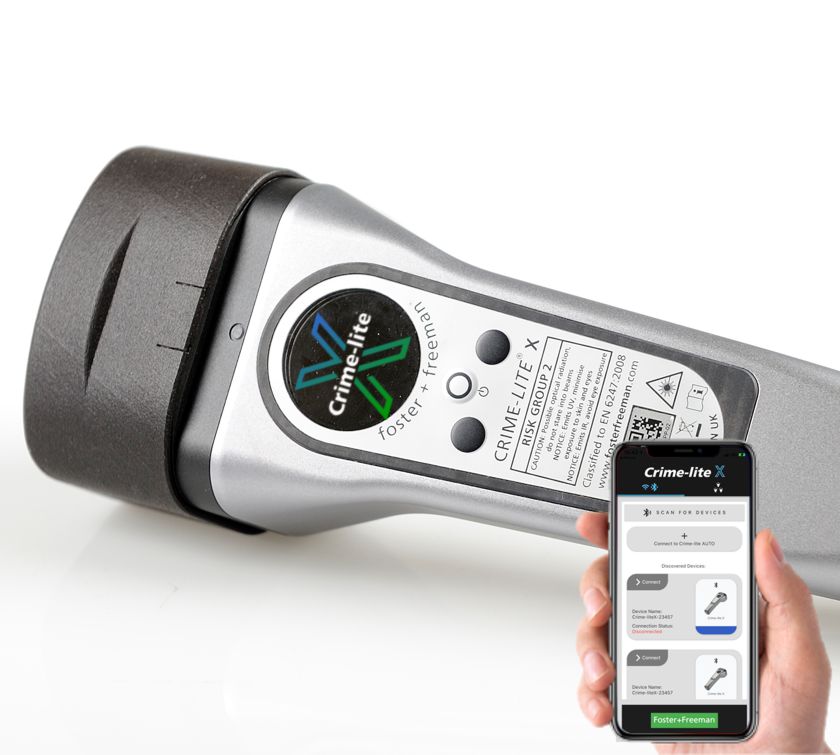 Crime-lite® X
It has been demonstrated that by searching a crime scene using a wide selection of narrowband light sources, examiners are able to increase the quality and quantity of evidence detected. The Crime-lite X enables CSI and laboratory examiners to conduct a full-spectral search for evidence using a single handheld light source in combination with the PRO Vision Viewing Goggles.
Crime-lite® 82S
The Crime-lite 82S range offers levels of illumination and ease of use that will almost certainly increase the quantity and value of evidence detected. Every Crime-lite 82S features 16 LEDs hand-picked for brightness and wavelength accuracy, ensuring consistent performance and a non-destructive method for detecting evidence.
Crime-lite® ML PRO
The Crime-lite ML PRO is part of a new generation of evidence screening tools, built to meet the demands of high-throughput forensic laboratories tasked with processing large quantities of evidence. With fully integrated UV-Vis-IR illumination and an 'intelligent optics' imaging system, the ML PRO can be used to mark-up evidence, detect the presence of a wide variety of different trace evidence, and can create an integrated examination report ready for court.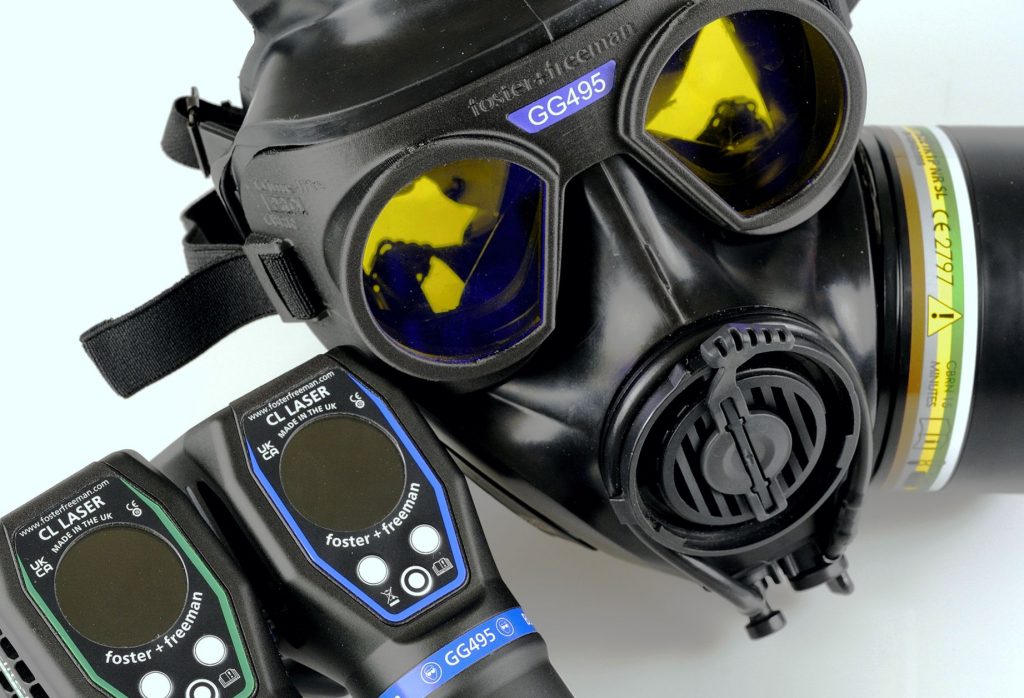 Crime-lite® PRO VISION
Reveal more evidence using PRO VISION Goggles & Lens Filters
To maximise the potential of every investigation, examiners must be equipped with appropriate fluorescence viewing goggles and camera lens filters.
Crime-lite PRO VISION accessories are available in a wide variety of formats including clip-on filters for use with full-face CBRN respirator masks.