Crime-lite

®

LASER

For the detection and examination of every last trace of forensic evidence; the new Crime-lite LASER provides intense, ultranarrowband LASER illumination from a truly portable light source.

Available in Blue (447nm) and Green (520nm) wavelengths, the Crime-lite LASER is capable of revealing evidence including latent and treated fingermarks, body fluids, and other invaluable traces of forensic evidence:
Latent & treated fingermarks
Body fluids (incl. blood, saliva, semen etc.)
Accelerants and traces of GSR
Illicit drug residues
Other minute traces of evidence
Narrowband LASER Illumination
The primary reason that an examiner may select to use a LASER over an LED light source is the narrow waveband accuracy that a LASER provides. Crime-lite LASER illumination is surgically precise, designed to excite fluorescence within a narrow 2nm bandwidth, illuminating only the desired target evidence without exciting any unwanted background fluorescence.
Focusing all of the LASER's output into such a narrow illumination bandwidth further increases the light intensity and ensures an even dispersion of light across the diameter of the beam.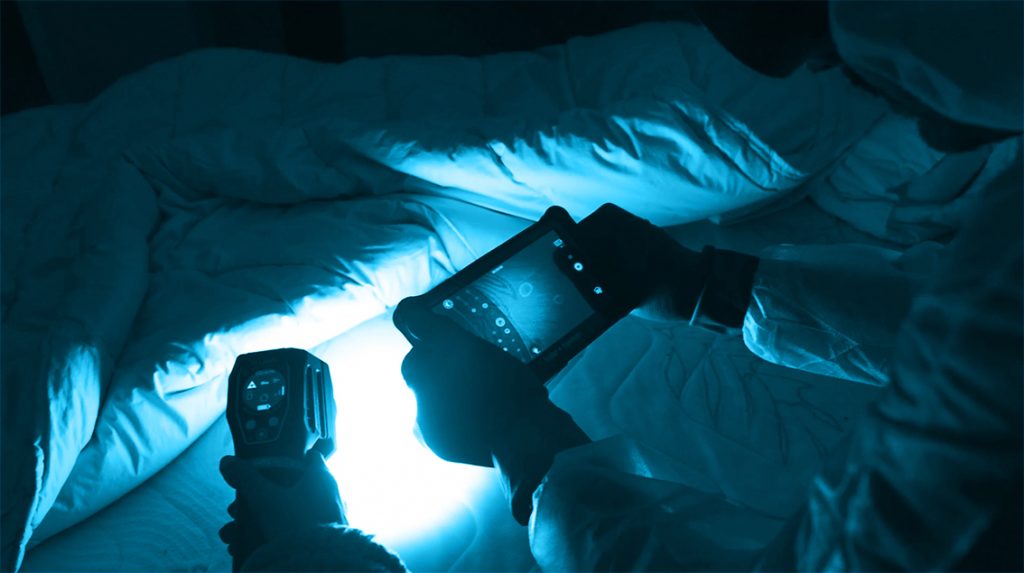 LED vs LASER
Whilst both LED and LASER illumination can reveal traces of forensic evidence, the narrow bandwidth output of the LASER can significantly reduce any background fluorescence to provide superior contrast.
Product Videos
Applications Demo
Join our applications specialist Laura for a closer look at the impressive results the Crime-lite LASER is able to achieve across a range of forensic applications.
Safety Features
As with all of our products, user safety is paramount, and never more so than with our first LASER powered Crime-lite; watch for examples of safe LASER operation.
Kit Walkthrough
Our Crime-lite LASER kits are designed with the user in mind; providing you with everything you need for safe and effective operation in a single secure and durable unit.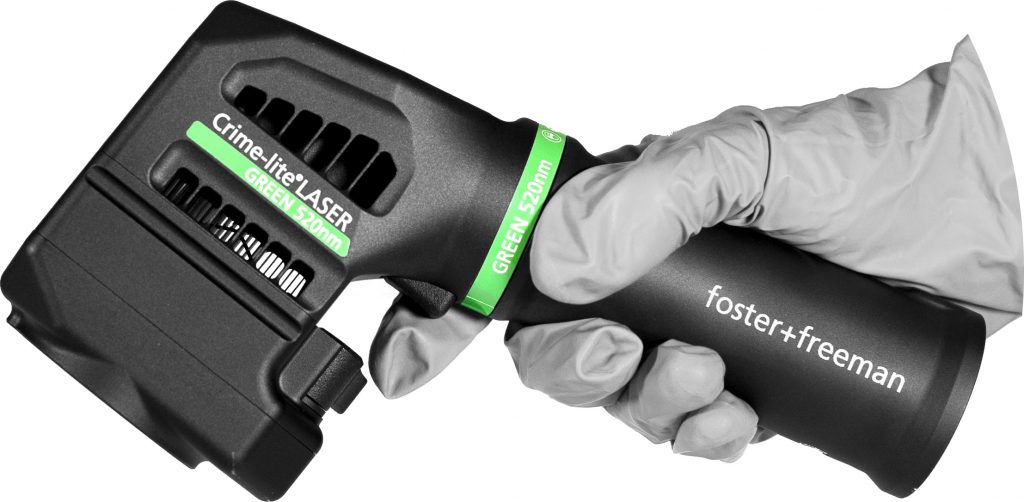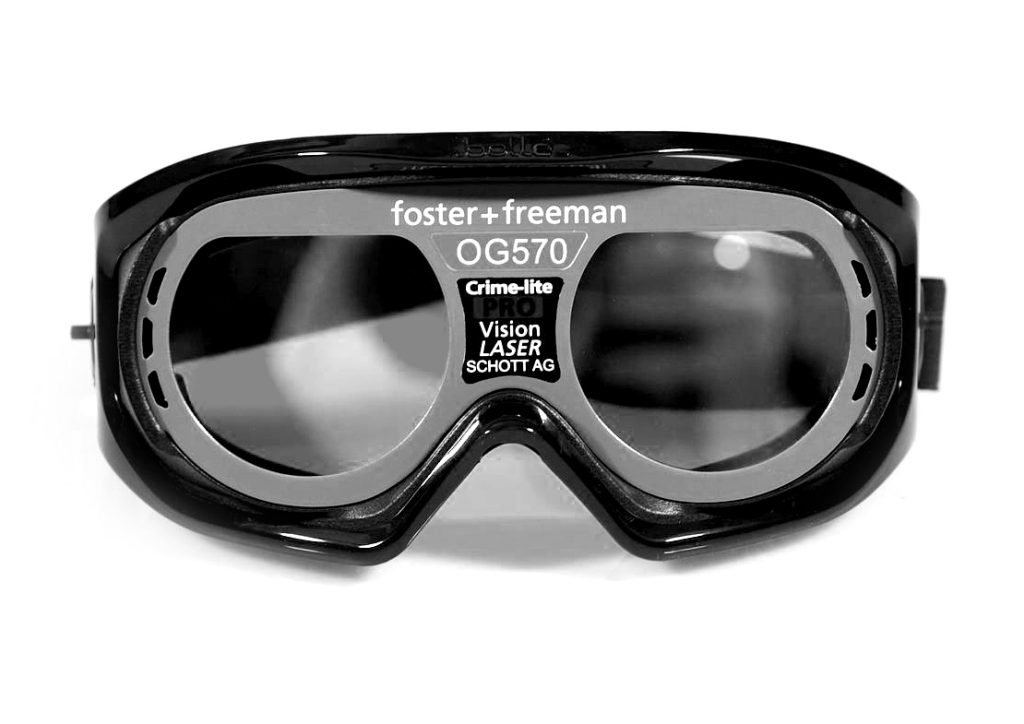 Triple-Interlocked Safety
End-user safety is central to the design of the Crime-lite LASER. A combination of robust safety interlocks protects the user, and anyone else in the vicinity, from accidental exposure to the device's powerful beam at all times.
Focused on Security
Each Crime-lite LASER includes 3-layers of safety to prevent unwanted firing of the beam. Firstly, an activation passcode must be entered on the devices LCD interface. Secondly a mechanical beam shutter must be manually opened, before thirdly the laser may be fired by depressing the 'dead man's trigger'.
Complete Safety Solution
In addition to these measures, each Crime-lite LASER is supplied with a physical interlock plug, specialist goggles and safety-signage. LASER safety training is also available.

Declaration of Conformity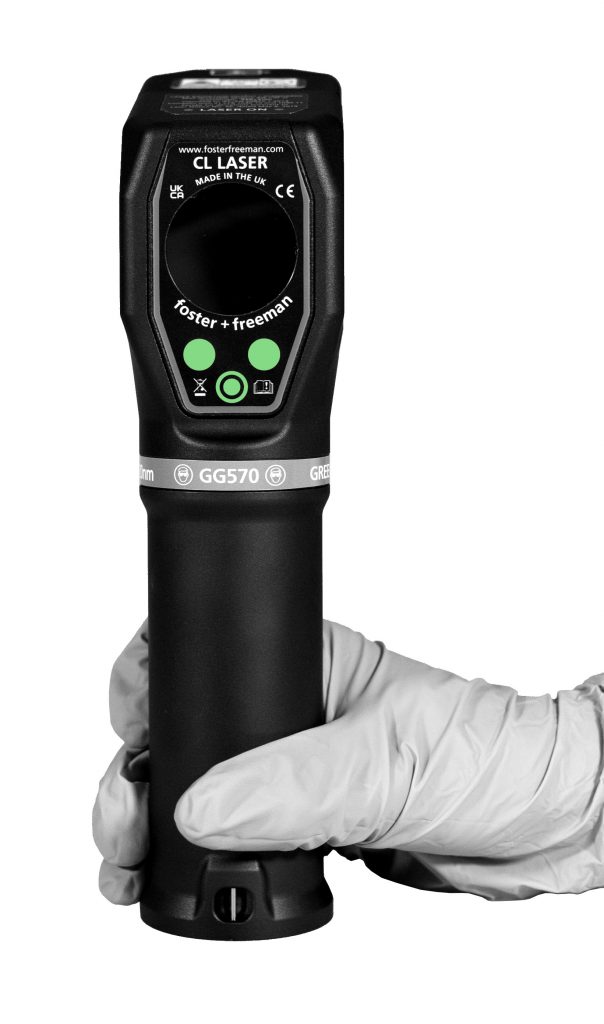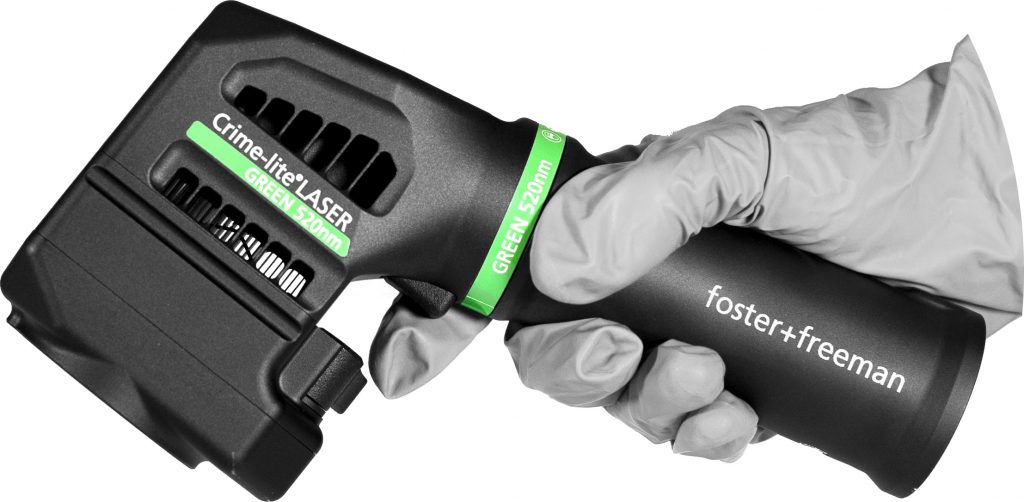 Applications
Green LASER – Indandione
Green 82S(LED) 560nm filter vs Green LASER 560nm filter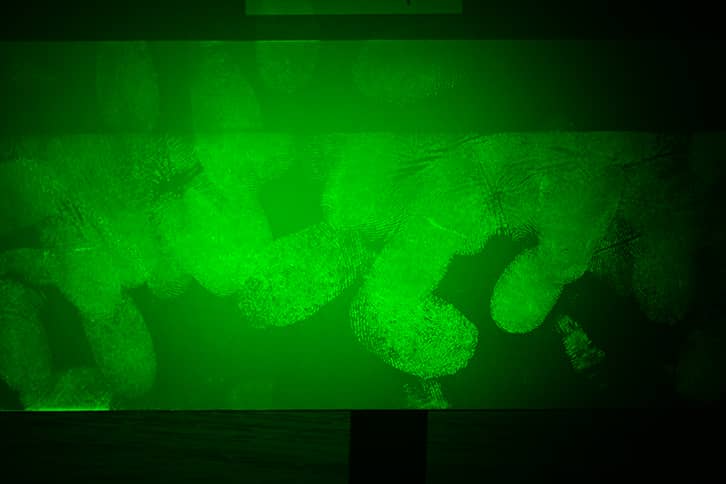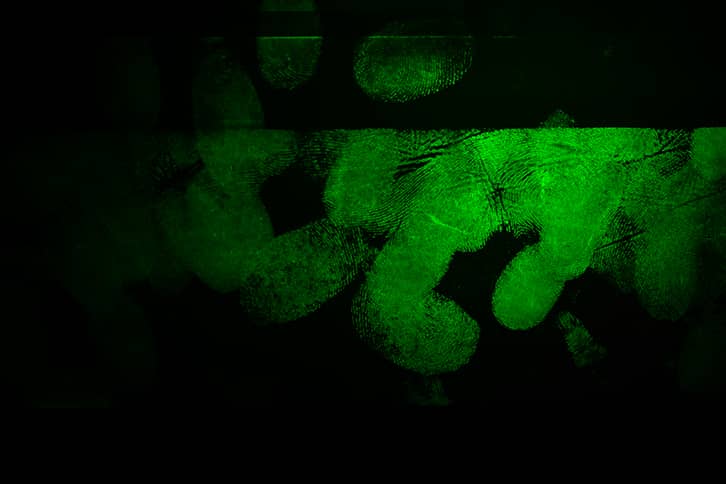 Blue LASER – Latent – Painted Wall
Visible vs Blue LASER 595nm filter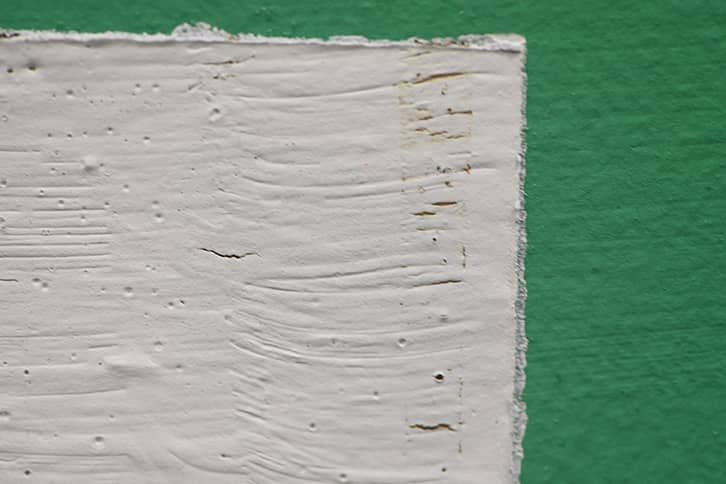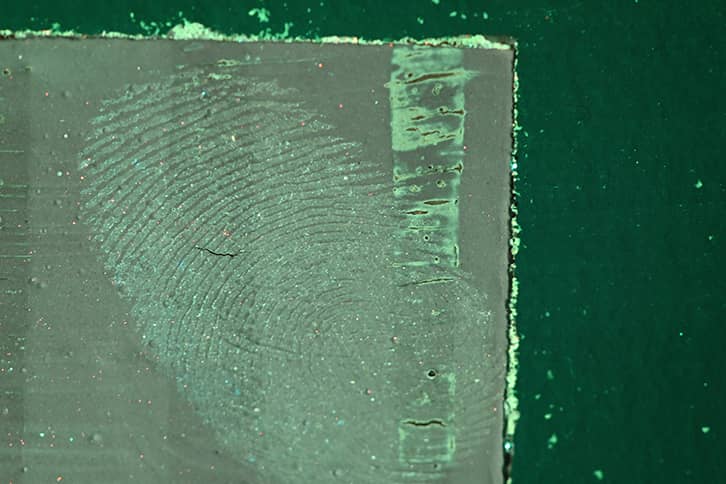 Green LASER – DFO – Magazine
Visible vs Green LASER 550nm filter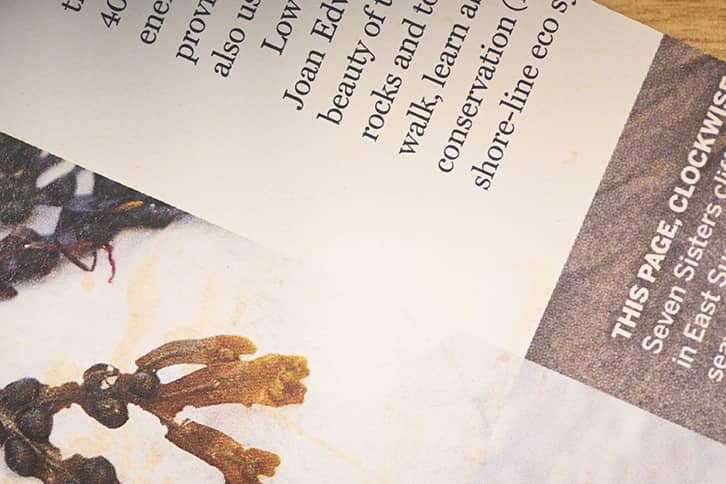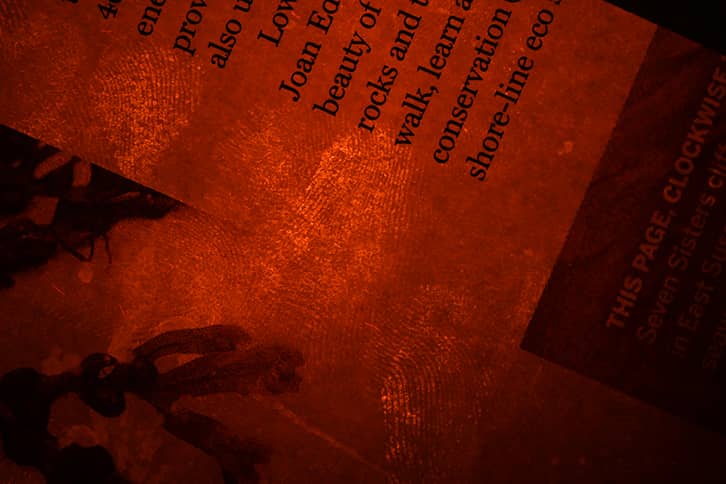 Blue LASER – DFO – White Paper
Blue 82S(LED) vs Blue LASER 495nm filter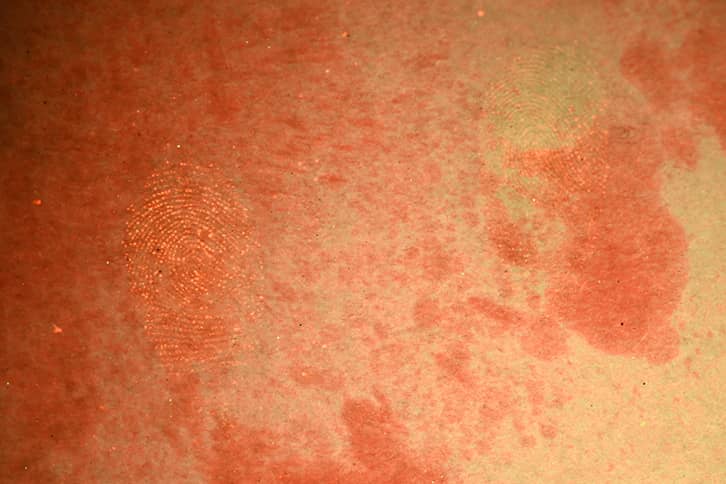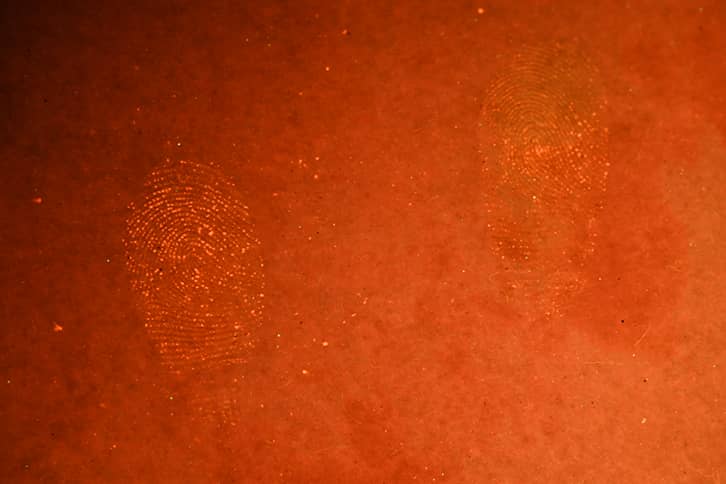 Accessories
Crime-lite anti-glare viewing goggles and camera filters are essential for the examination and photography of fluorescent evidence and are supplied as standard with all Crime-lite 82S cased sets.
Each anti-glare filter is manufactured from Schott glass with an additional coating to suppress auto-fluorescent emissions from the Schott glass itself, thus ensuring maximum optical performance when using high power light sources.
As standard foster+freeman camera lens filters are supplied with 62mm fittings, other sizes are available on request.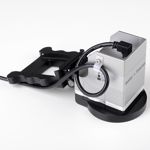 5MP IR sensitive camera
for the visualization and digital image capture of evidence
Attaches to the Crime-lite 82S
Hi-speed USB 2.0 interface
Includes UV, Vis & IR filters
Includes image capture software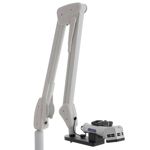 Articulated Arm
for the hands-free operation of the Crime-lite 82S IR
Bench or wall mounted
Reach 132cm
Internal power and USB cables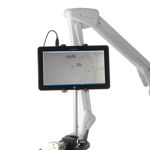 Tablet PC Mount
adjustable mount that clamps tablet PC to Articulated Arm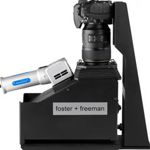 Designed for use with the Crime-lite 82S, the Crime-lite Viewing Box provides a simple solution to a long-standing problem.
When using a high-intensity light source for the examination of fluorescent evidence including latent fingerprints it is often the case that ambient light reduces the visibility of the print. The Crime-lite Viewing Box solves this problem by shielding the fingerprint from all ambient light ensuring optimum visibility.
The Crime-lite Viewing box has pre-cut slots to accommodate Foster + Freeman anti-glare viewing goggles or an SLR camera. Accessories include a camera stand and lens bellows.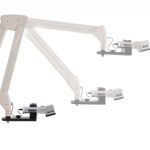 Available for use with all Foster + Freeman Crime-lites, this heavy-duty low-profile articulated arm allows for easy hands-free operation of high-intensity light sources.
Internal power cables can be used to connect the Crime-lite (and optional camera) to an AC mains power outlet without trailing wires.
Crime-lite's are attached via an adjustable clamp.
Available for use with all Foster + Freeman Crime-lites but originally designed for use with Crime-lite 82S IR and Crime-lite ML2 systems (light source, camera, and tablet PC), this robust wheeled cart is ideal for use in forensic laboratories.
The cart is mounted on lockable castors and can be manoeuvred around exhibits. A two-point fixing plate allows for the easy attachment of a Crime-lite articulated arm.
An optional uninterruptible power supply can be used to power equipment with no trailing wires. When not in use the trolley can be connected to an AC mains power outlet to be recharged.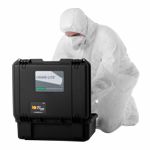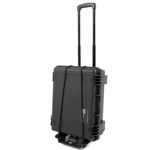 CSI Case
available in a variety of sizes for all Crime-lite forensic light sources.
CSI Case Trolley
for easy transportation of Crime-lite CSI cases.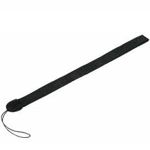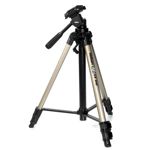 Wrist Lanyard
attaches to handheld Crime-lites to prevent the risk of being dropped.
Tripod
available for all Crime-lite forensic light sources.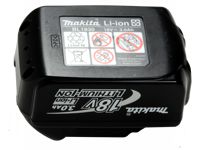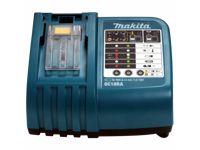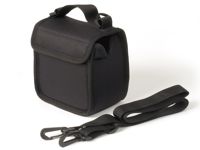 Spare or replacement batteries and battery chargers are available for all handheld Crime-lites. The following components are available for the Crime-lite 82S.
Battery
ORDER CODE: QCL/82S/008B
TYPE: 18V Li Ion rechargeable
Charger
ORDER CODE: QCL/82S/009
CHARGE TIME: 22 minutes
Vehicle Batter Charger
Battery pouch with strap