Crime-lite

®

ML2

Bench top magnifier with multi-wavelength illumination, including infrared illumination module.

The Crime-lite ML2 forensic light source combines the versatility of multi-wavelength, high intensity LED illumination with wide area bi-ocular magnification. An ideal system for the examination and 'marking up' of large items of evidence in the laboratory.
Discover Your Ideal Light Source Today
Use the Crime-lite Configurator to explore our Crime-lite range and discover the ideal light source and accessories to Detect More Evidence during your next investigation…
Applications
Increased Speed
and Efficiency
The Crime-lite ML2 provides forensic examiners with a fast and efficient method of screening articles for the presence of fingerprints, trace evidence or other biological material. Laboratory productivity is greatly increased by quickly 'marking up' areas of interest and eliminating articles devoid of evidence.

Use the tables below to determine the wavelengths required for your chosen applications: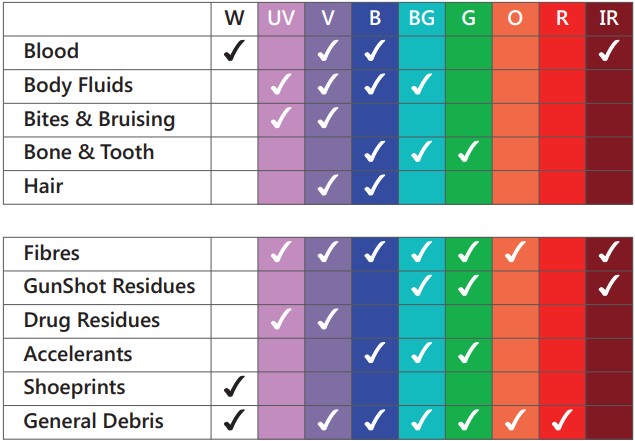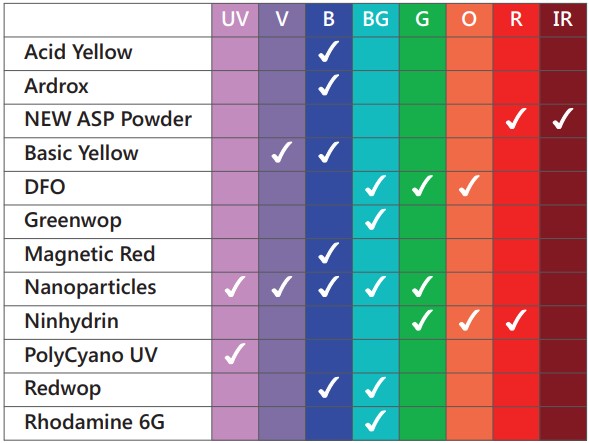 Searching Beyond
the Visible
The addition of a new Infrared LED module and UV-Vis-IR camera has further increased the functionality of the Crime-lite ML2 by allowing investigators to conduct examinations beyond the limits of the visible spectrum. Previously hard to detect evidence, such as blood or GSR on dark or densely patterned fabrics, becomes clearly visible under IR illumination when viewed in the infrared waveband.
Accessories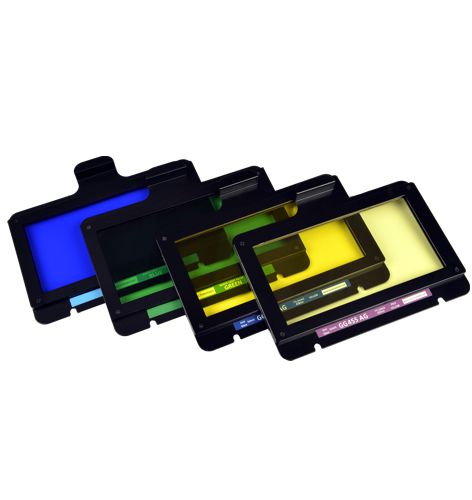 Bandpass Viewing Filters
In addition to the standard filters supplied with the Crime-lite ML2, a selection of Bandpass Viewing Filters, tailored for the examination of specific evidence types, are also available.
415nm for the visualization of blood spatter
530nm for the visualization of body fluids
550nm for the visualization of body fluids
Each Bandpass Viewing Filter is manufactured from Schott glass with an additional coating to suppress auto-fluorescent emissions from the Schott glass itself, thus ensuring maximum optical performance when using high power light sources.
Evidence undergoing infrared examination using the Crime-lite ML2 IR module is visualized using an IR sensitive camera attachment with live video images being displayed on a PC monitor.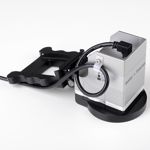 5MP IR sensitive camera
for the visualization and digital image capture of evidence
Attaches to the Crime-lite 82S
Hi-speed USB 2.0 interface
Includes UV, Vis & IR filters
Includes image capture software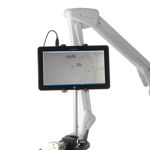 Tablet PC Mount
adjustable mount that clamps tablet PC to Articulated Arm
Available for use with all foster+freeman Crime-lites, this robust wheeled cart is ideal for use in forensic laboratories.
The 70x60x70cm unit is mounted on lockable castors and can be manoeuvred around exhibits. A two-point fixing plate allows for the easy attachment of a Crime-lite articulated arm.
An optional uninterruptible power supply can be used to power equipment with no trailing wires. When not in use the trolley can be connected to an AC mains power outlet to be recharged.