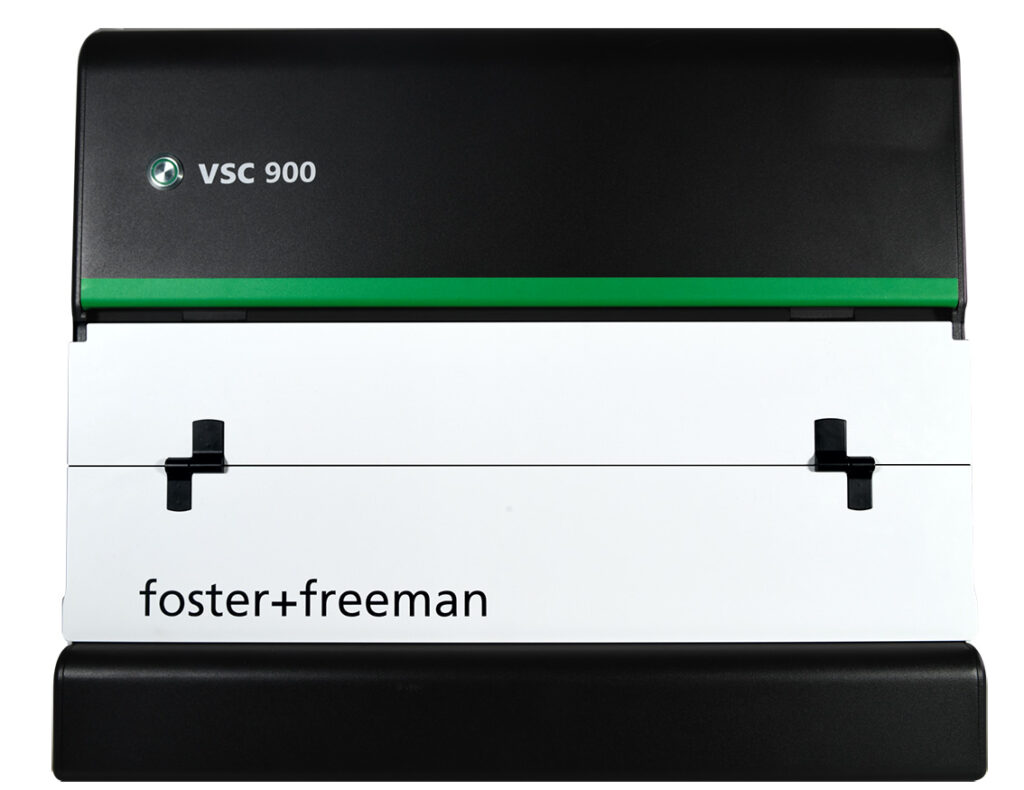 VSC® 900
The complete solution for hybrid document interrogations
Introducing a new VSC workstation for the hybrid physical and digital inspection of travel and identity documents, designed to meet the complex demands of immigration/border security applications.
The first in a new generation of hybrid VSC document examination systems, the VSC 900 provides examiners with a comprehensive suite of traditional and advanced tools for the interrogation and verification of passports, ID cards, visas, residence permits, and other questioned documents.
The Hybrid Document Examination Solution
For document examiners tasked with authenticating genuine travel documents and identifying counterfeits, forgeries, and pseudo documents…
Physical Document Examination
The product of 40+ years' design, research and experience, the VSC 900 includes the latest foster+freeman optical imaging technology to visualise and interrogate document security features including watermarks; holograms; special inks; and security threads; as well as anti-tampering measures, such as perforations; laminates; and heat-sealed edges etc.
High resolution, 8MP imaging providing over A4/US Letter field of view
Up to 1023 LED illumination combinations at all spectral wavelengths (short-, mid- and long-wave UV, through to near-infrared)
Removable transmitted light base with optional XY-Stage
Digital Document Examination
Providing a comprehensive interface for the control of all VSC illumination, imaging and examination tools, the VSC900 software will be instantly accessible to anyone familiar with the VSC line of instruments. Updated to facilitate the hybrid inspection of 'digital documents', the VSC900 includes the following advanced features:
Decode embedded security features using fully licenced decoders
Extract biometric data and perform document-specific tests with Pass/Fail authentication
View data contained on the RFID chip of a Machine-Readable Travel Document (MRTD) using Extended Access Control (EAC)
Hybrid Document Examinations using the VSC 900
Offering an extensive selection of traditional and advanced examination features, the VSC900 provides examiners with the tools required to differentiate between genuine and counterfeit documents. Using multi-modal UV-Vis-IR illumination, in combination with biometric and Extended Access Control (EAC) software tools, the system can authenticate genuine documents as well as reveal evidence of tampering that includes alterations that would otherwise be undetectable.
Modern Document Security
ePASSPORTS // BIOMETRIC ID CARDS
Basic Access Control (BAC) ePassports Biometrics Extended Access Control (EAC) Active Authentication Password Authenticated Establishment (PACE) Optical Character Recognition (OCR) eChip Public Key Infrastructure (PKI) Machine Readable Travel Documents (MRTDs) Document Signing Certificate (DSC) and more…
Traditional Document Inspection
PASSPORTS // VISAS // CURRENCY
Infrared Ink Analysis Watermarks Holograms UV Activated Features Colour-Shifting Inks Microprinting Intaglio Features Security Threads Serial Numbers Fluorescent Fibres Thermochromic Inks Concealed Images Guilloche Printing Laser Perforations Invisible inks Optically Variable Inks and more…
Ready to Find Out More?
Request a Quote Today
Webinar: New Frontiers in Document Examination
In this webinar, we explore the latest techniques and technology used by immigration staff and questioned document examiners for the forensic analysis of travel and identity documents.