CRIME-LITE APPLICATIONS //
The use of Bandpass Filters in forensic examinations
Fluorescence Examinations:
Fluorescence is a property of a material which means that it will absorb a particular wavelength of light and then re-emit this light shifted to a longer wavelength – this is known as Stokes shift. Many forensically relevant materials exhibit fluorescence at different wavelengths, which means that this type of examination is common within a variety of forensic  fields. The use of this application can be  a powerful tool in an investigators arsenal, from crime scene analysis through to biological examinations or treatments designed for fingermark development. The ability to locate fluorescent evidence types can be crucial for forensic investigations.
In order to stimulate fluorescence in the evidence it is necessary to use high intensity light sources, such as Crime-lite products. Generally speaking, the more intensity that is applied to a sample, the brighter the resultant fluorescence will be. However, the high-intensity light used to stimulate fluorescence in the sample will be much more powerful than the emitted fluorescence from the evidence.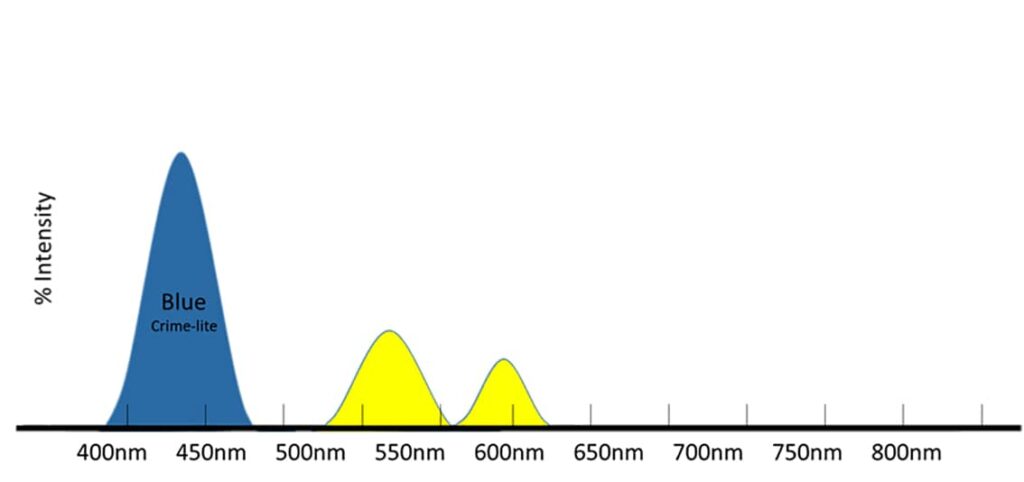 Fig 1.
This  diagram displays  a representation of fluorescence occurring from the illumination of a blue Crime-lite . The fluorescence is emitted at a longer wavelength than the wavelength of the light source used.
It is necessary to use a filter to block out the incident light
(the light emitted from the Crime-lite)
in order to view the emitted fluorescence from the evidence.
Longpass Filters:
The most commonly used type of filter to view fluorescence is a longpass filter. This type of filter will block all wavelengths below a certain value – allowing the longer wavelengths to pass through and be visible to the viewer.
Images above: An example of fluorescence as exhibited by fibres. Under white illumination, the fires on this surface cannot be seen, however when illuminated with a green Crime-lite and viewed with a 590nm longpass filter, the fluorescence exhibited by the fibres allows them to be located and lifted from the surface for further examination.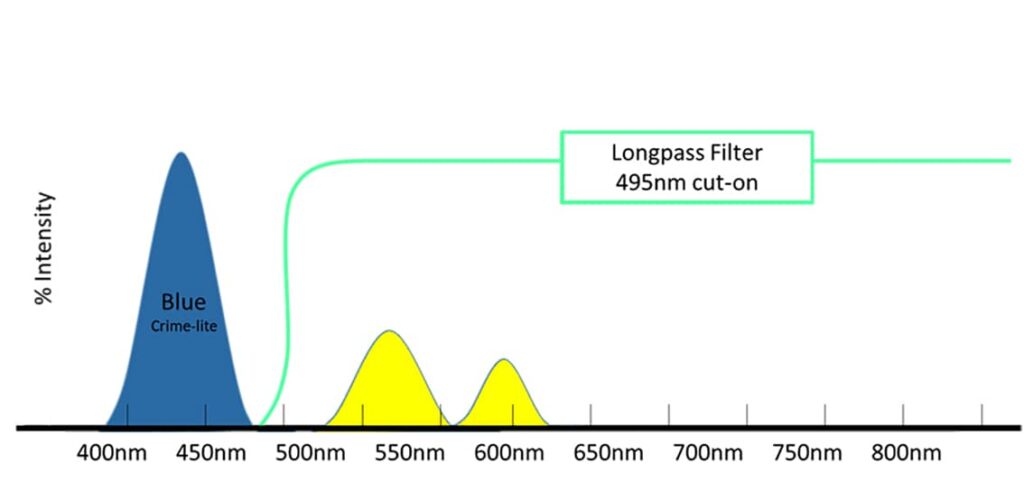 Fig 2.
This is a representation of how a longpass filter allows us to see fluorescence. The illumination wavelengths from the Blue Crime-lite are blocked out by the filter, allowing only the fluorescence emitted from the sample to be viewed.
Bandpass Filters:
Some substrates may contain a background which fluoresces at a similar wavelength to the evidence. This fluorescent background may interfere with the ability to see contrast between the evidence and the background, in some cases it may completely obscure the visibility of the fluorescent signal. In these situations, it may be better to use a bandpass filter for the examination.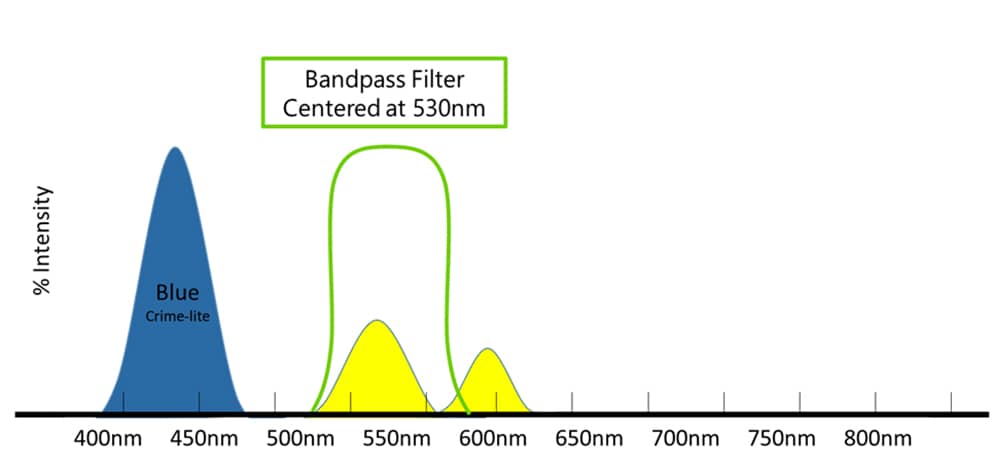 Fig 3.
This is a representation of a bandpass filter. Bandpass filters block out all light shorter than a specific wavelength and also all light longer than a specific wavelength.
A bandpass filter will block all wavelengths shorter than a certain value but also all wavelengths longer than a certain value as well, allowing only a narrow portion of the spectrum to pass through. This can help to improve contrast between the evidence and background, especially if a fluorescent background is interfering with the signal. This can be seen in the example images in Fig 4.
In some cases, the use of a bandpass filter may give visibility to evidence which was previously not visible with the use of a standard longpass filter, in other cases it may simply increase the contrast which can be achieved between the evidence and the background – potentially allowing the morphology of a stain to be more clearly visible.
Fig 4.
This is an example of a semen stain on a brightly patterned pair of male underwear. Photographed a. using white light, b. using a blue Crime-lite and a 495nm longpass filter, and c. using a blue Crime-lite and a 530nm bandpass filter.
This body fluid stain is much more clearly visible on this substrate when a bandpass filter is applied. When a longpass filter was used, the image clearly displays how the fluorescence from the background interferes with our ability to visualise the stain and the ability to observe clear contrast between the stain and the background.
Required Hardware:
Crime-lite Technology with Integrated Bandpass filters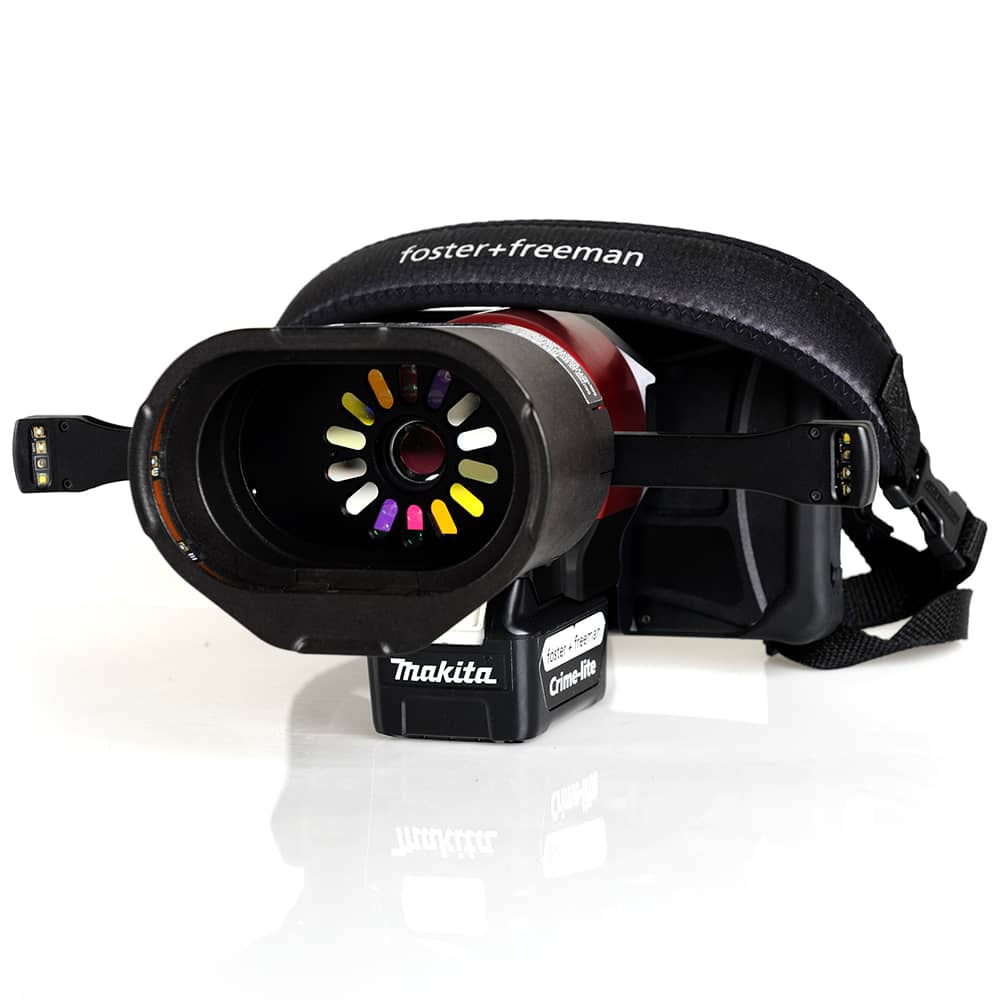 Crime-lite® AUTO
The Crime-lite Auto is a highly portable, full spectrum camera which allows for the search, detection, and capture of forensic evidence at a crime scene or in the laboratory. It has been designed to help an examiner quickly and effectively screen, enhance and detect evidence across the spectrum from the Ultraviolet through to Infrared, incorporating three bandpass filters to support detection of evidence on more challenging surfaces. The product is built around a 20.1 MP camera with high intensity LEDs which have the capability to detect a range of different forensic evidence types.
Crime-lite® ML PRO
The ML PRO is our full-spectrum laboratory-based screening tool. It has been specifically designed for the biology lab – incorporating full-spectrum illumination, automated filtration and an integrated reporting software feature. The ML PRO includes a range of bandpass filters to support examiners in detecting more evidence on challenging substrates and difficult backgrounds.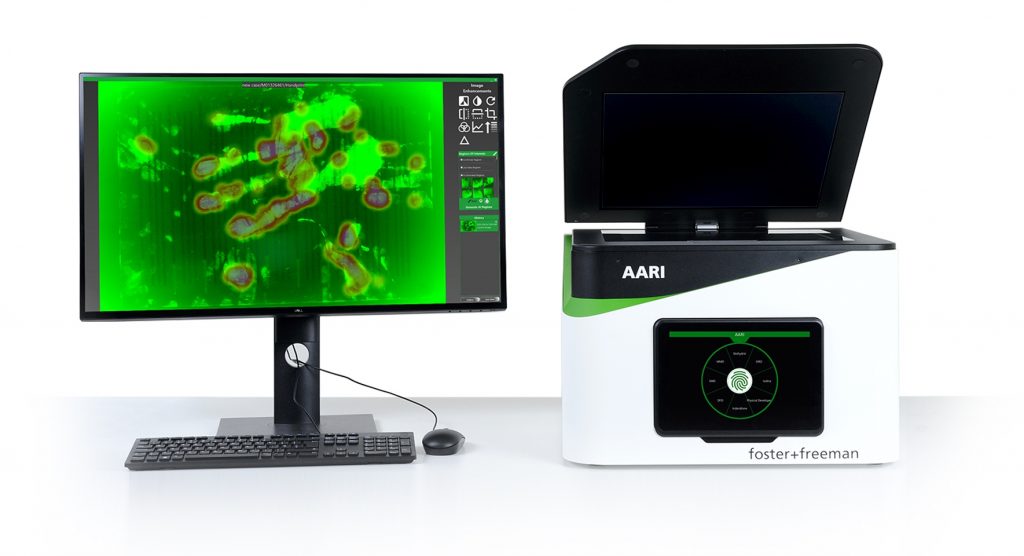 AARI®
The Amino Acid Rapid Imager (AARI) is designed for the photography of fingermarks developed on flat, porous evidence types. The user-friendly interface includes combinations of light sources and filters as pre-sets for commonly encountered fingermark treatments, to make the photography of fingermarks on these evidence types as intuitive as possible.
Crime-lite Technology with Auxiliary Bandpass filters
Any of the well-established foster+freeman Crime-lite products can be used alongside auxiliary bandpass filters to maximise the contrast which can be achieved between fluorescent evidence and the substrate.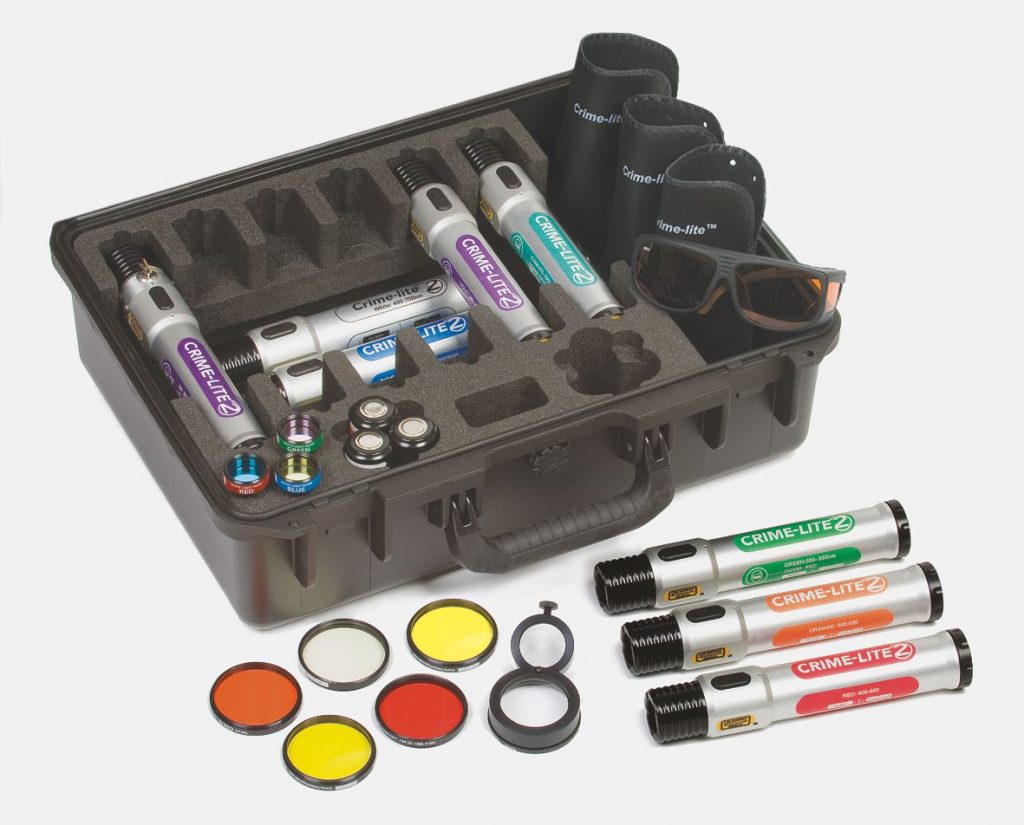 Crime-lite® 2
A range of lightweight LED forensic light sources which are effective at short-range in providing intense, even and shadow-free illumination, for locating and examining evidence. The Crime-lite 2 features a high-intensity LED with shadow-free, constant light output throughout battery charge.
Crime-lite® 82S
The Crime-lite 82S is a powerful alternate light source which can be used at the crime-scene or in the laboratory. Each Crime-lite 82S features 16 high-powered LEDs to provide intense illumination across their specified waveband with up to 19W of LED output.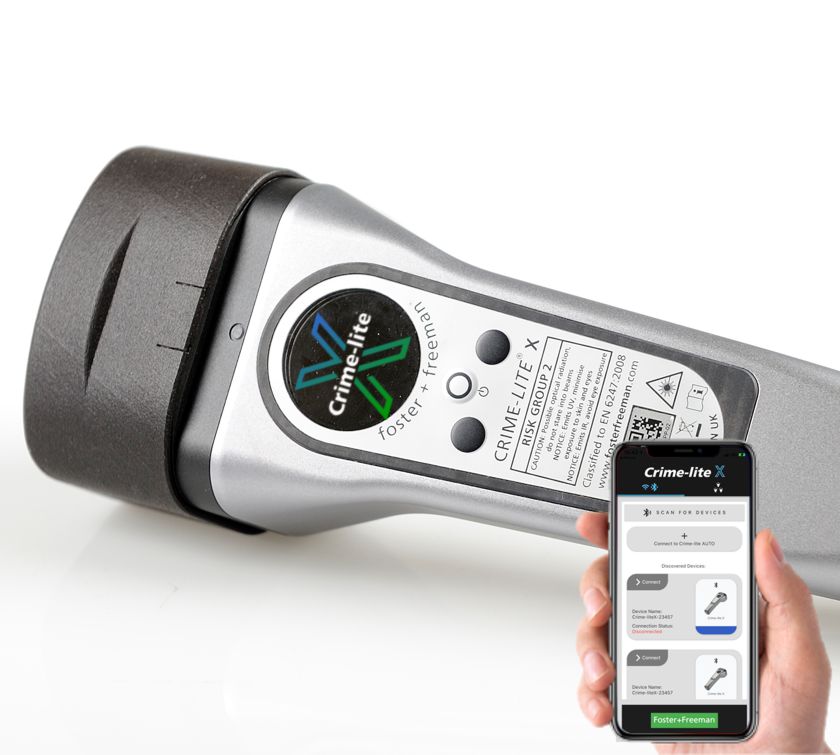 Crime-lite® X
The Crime-lite X combines up to 10 wavelengths of light to give a full-spectrum illumination tool in a single handheld unit. This allows an examiner to simply switch between different illumination bands and search effectively across the full spectrum using a single product.
Crime-lite® LASER
The Crime-lite LASER is a truly portable forensic laser, giving the user access to intense, ultra-narrowband illumination. An investigation which incorporates both LED and complimentary LASER examination may prevent important evidence from being missed. A bandpass filter can be used in combination with fluorescence from narrowband LASER illumination to ensure the maximum contrast between the evidence and background is achieved.
Examples of Bandpass Filter Imaging
This is an example of saliva on a bright pink coloured cushion, photographed with the Crime-lite AUTO. Image a shows the sample under the blue light source, photographed with a 495nm longpass filter, where the stain cannot be visualised due to the fluorescence being emitted from the background. When a 530nm bandpass filter is used, this background fluorescence is eliminated and allows the stain to be visualised (image b).
Saliva can be a particularly challenging body fluid to locate, due to the weak fluorescence it often exhibits relative to a substrate. In these cases, it can often be beneficial to use a bandpass filter to improve contrast between the saliva and the background.
This is an example of 1,2-indandione treated fingermarks on a fluorescent background. When illuminated using a green light and viewed using a longpass filter (images a, c and e) on AARI, the contrast which is observed between the evidence and the background is reduced when compared to the images captured using the 568nm Bandpass filter on AARI (images b, d and f).
These images highlight the increased yield in detail which can be achieved when using a bandpass filter to photograph fingermarks. There is ridge detail missing from image e which can be observed in image f along the central vertical strip. The fluorescence from the background has been decreased, enhancing the extent of the visible ridge detail on this substrate.
Illicit substances
On this surface, there is cocaine mixed with a range of common adulterants (cutting agents). Image a has been captured using the blue light source with a 495nm filter on the Crime-lite AUTO. This type of drug is difficult to differentiate from some types of adulterants, as they can fluoresce at a similar wavelength. Image b shows the difference that can be observed when a bandpass filter is used to visualise the fluorescence. When a bandpass filter is used the fluorescence of the adulterants is eliminated, allowing only the fluorescence from the cocaine to be visualised. This can make the drug easier to see on difficult surfaces, even when a there are only small levels of the substances present.